Robotic-Assisted Dental Implant Surgery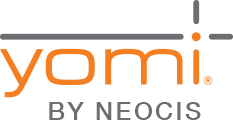 As the first and only robot-assisted surgical system cleared by the FDA for dental implant surgery, Yomi® helps your team of specialists accurately plan your procedure and place your implants. Whether you need to replace a single tooth, multiple teeth, or your complete smile, this is the less invasive, life-changing solution you've been waiting for.
Yomi provides assistance to the surgeon in planning and placing your implants. This helps your surgeon place your implant precisely for a natural look and feel. Yomi allows your surgeon to quickly make changes to your surgical plan. This helps make treatment easy for you. Yomi may also allow for less invasive dental implant surgery.
What can I expect with Yomi Robot-Assisted Surgery?
If Yomi is right for you, your dental team will create a custom treatment plan. This plan will be made using Yomi software. During surgery, Yomi will assist your surgeon. Yomi will provide important information that your surgeon can feel, hear and see. Yomi will guide your surgeon to place your implant precisely to plan.
Here's why Yomi may be the best option for you:
Enables smaller incisions & faster recovery: Yomi enables minimally invasive procedures, which could lead to a faster recovery.
Robotic guidance & control: Yomi doctor is always in control, with Yomi assisting in the accurate placement of the implants according to the digital plan.
Digital planning & accuracy: Yomi complements your doctor's surgical skills by pre-planning the entire procedure and enabling robotic guidance throughout the surgery.
More peace of mind & saves time: Implants are an investment, so it feels good knowing you're getting more accurate dental care with fewer appointments (for the appropriate candidates).
Great Smile & life-changing results: Dental implants look, feel and function like real teeth, helping you take control of your oral health now and for the future.